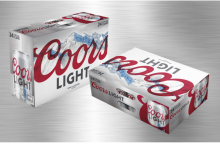 Coors Light is "LOUDER" and "PROUDER" in 2018! 
 This year, Coors Light has released new packaging, a new message and updates to its loyalty program.  The ad campaign this year focuses on strengthening the Coors Light title as " the world's most-refreshing beer" and continuing the successful  "climb on" compaign that connects with consumers by telling a lifestyle and sustainability story.  New Packaging is hitting stores with a more streamlined, contemporary look to elevate the look and feel of Coors Light while presenting a more consisent branding across all pack sizes.  Updating to an all-silver paneling from a two toned silver and gray packs that stands out better offering a visual pop than previous packaging. Lastly, Coors Light will change the name of the loyalty program from "Coors Light XP" to "Coors Light Rewards".  This program launched over the summers offers incentives loyal Coors Light consumers.  
Coors Light the world's most refreshing beer.....Climb On!